Undo a Quick Format
Quick format also known as fast format typically leaves existing file system in place, but it removes the file markers or pointers and marks the space as free or available for use. Quick format does not check to see whether the disk is damaged or not and hence it should not be used while installation of a new OS or up gradation of Operating System in our Windows or Mac based. It should be used even while transferring files. Quick format or fast format performs the task to rewrite the boot record in the formatted process.
Have you ever accidentally performed quick format operation on your Windows and Mac system's hard disc drive / volumes / partition? Looking for a solution to undo a quick format? Go ahead and click the download button and launch the undo quick format program to retrieve lost files and documents from quick formatted volumes, partitions etc. To know more about recovery of formatted disk data visit: http://www.undoformat.com/recover-data-from-formatted-disk-mac.html
Losing important files inadvertently has become the most common issue across the globe and daily innumerable users come across such data loss scenarios which are caused due to performing of unintentional quick format operation. User may format their local machines HDD partition or any other external removable storage medium using the "Quick Format" operation. It is very important for users to know that now it is possible for them to undo a quick format as after performing formatting operation, only data and files entries get deleted from the HDD partition table thereby marking the space as free for new data and files.
You must be happy to know that lost files and data from the computer's HDD or any other storage media such as flash drive, memory card, pen drive etc do not get lost permanently unless they are overwritten by some new fresh contents. Hence it is recommended to use reliable, robust and efficient recovery program such as this undo format application.
User can even make use of MS-DOS command prompt in Windows based OS to perform quick format function-
FORMAT drive:  [/V[: label]] [/Q] [/F: size] [/B | /S] [/C]
Various reasons for performing a quick format operation-
There can be numerous reasons behind formatting a HDD partition / volumes or external storage medium on our electronic devices such as-
Human errors such as unawarely formation the HDD partition or memory cards, pendrives etc using the "Quick Format" functionality.
System crash because of software conflicts which is caused due to worn out HDD or RAM.
Suspicious virus or malware infection on computers local and external storage device.
Repartitioning hard disk or reinstallation of Windows and Mac Operating System on your computer.
Bad sectors on Hard disk caused due to frequent power fluctuation or due to old and aged HDD.
To give a clear idea we shall discuss the above mentioned points elaborately now-
We human beings often perform silly mistakes such as unawarely performing formatting of faulty drives instead of other drive by selecting the "Quick Format" functionality. Sometimes external hard drives are also formatted in this way. But it is possible to recover such formatted external hard drive. To know how it is recovered visit http://www.undoformat.com/recover-data-from-external-hard-drive.html
It can also be likely that you have accidentally formatted all the drives such as USB drives, flash drives, external drives etc on account of being getting corrupted due to frequent unplugging and plugging on our computer.
Sometimes fatal error message pops up in front of us on the screen asking us to format a particular drive and we perform a Quick format on that drive.
Often strong and suspicious viruses, worms, malware and spyware may make us to format the logical storage devices forcibly. Using this toolkit you can undo SD card format action speedily.
The rarest reason can be while installing two different Operating System on personal computer user may accidentally format a partition while attempting for repartition operation in a faulty way. Now, one can happily perform undo format hard drive operation.
Whatever be the reason of quick format, you no more need to be worried on how to restore back the lost files.
Amazing features of this retrieval wizard-
This ultimate product has been designed keeping all the scenarios of file loss in mind for both Windows and Mac computers in different packages.
It thoroughly scans the entire HDD and recovers all the lost files from drive formatted in HFS, HFS+, NTFS, NTFS 5 file system. If you need to recover data from formatted HFS+ partition on Mac, visit this link: www.undoformat.com/recover-formatted-hfs-partition.html.
This utility can even recover formatted memory card data from various types like CF card, SD card, XD card, MMC card, etc.
This software is user friendly as user can use this software without gathering any knowledge of technology and above all this program's trial version is available free on internet.
Using this amazing tool even helps to recover data from formatted flash drive on both Windows and Mac OS X computers
Using its advanced module and thorough file scan algorithm, one can easily and efficiently unformat CF card. To know how visit here: http://www.undoformat.com/cf-card.html
Most surprisingly, this software excellently performs undo format Windows 7 operation and even Windows 8.
How to undo a quick format-
Step-1: Download the software to undo format and install on your computer. After launching the software, you will get the home page of the recovery tool. Select Recover Partitions / Drives and then select Formatted / Reformatted Recovery.
Step-2: In case you have lost files while attempting to quick your HDD or external storage devices on your computer, then in the second screen you need to hit the "Formatted / Reformatted Recovery" to restore the missing files back and proceed ahead.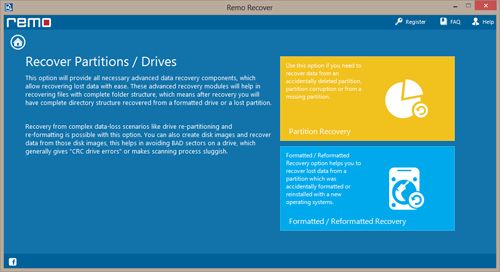 Step-3: In the third screen you need to select the particular reformatted drive and move a step ahead. After a thorough scan runs it displays the restored drives.
Step-4: Later after the unformatting operation gets over, user can preview the retrieved drives and folder in it and save the recovery session.
Tips-
When you accidentally or forcibly format external storage devices or hard drives on your OS and from mini SD, micro SD and SD card, you will lose entire data on that drive, no matter which format method you apply. Therefore, it is very important to take regular back up of all your important files. Even though, if you do not have backing files, you still have chances to restore data from formatted SD card by using SD card unformat software.
Irrespective of the cause, whenever you face loss of data, instead of making silly errors think of using appropriate unformatting tool. It will help you to restore your lost or deleted data before overwriting of the SD card contents. This tool scans the entire memory card from which the file is lost and restores with the help of file signatures.