How To Unformat CF Card?
Compact flash card which is popularly known as CF card is a storage device which is used by most of the portable electronic devices for storing data. You must have found yourself in a situation where your CF card is formatted by mistake and you have lost your precious data from it. Of course such type of event makes you disappointed and you are left in a terrible situation. Fortunately there is a tool which is suitable to address such type of issue proficiently. This tool is known as Undoformat and is capable enough to recover data from formatted CF card in a very short span of time.
There are various occasions where you may lose data from your CF card. Some of those which are most popular are mentioned below:
Accidental format of CF card is most frequently noted cause where your data from CF card is lost. Suppose you want to transfer data from Your CF card to system or vice versa. For this when you connect your CF card to the system through card reader, an alert window pops up displaying a message that "Memory card not recognized. Do you want to format it now?" unconsciously if you select yes option then all data dwelling on this CF card is lost in just a fraction of seconds.
After this incident you must be looking for a tool to unformat CF card data. Well, there is software known as Undo Format, which can effectively recover lost data from your CF card in just a few clicks of mouse. This tool not only recovers data from memory card data but also capable to recover data from flash drives effectively. If you want to know about flash drive data recovery then visits here: https://undoformat.com/recover-data-from-flash-drive.html
Quick formatting is another reason which can be responsible of data loss from your CF card. Sometimes, user prefers to format CF card by selecting quick format option, because it formats storage device very fast. After the formatting, if you find that there were important data on it then it cannot be taken back without the help of recovery tool like Undo Format. You can easily unformat CF card and other types of memory cards like SD, xD and many more with this tool in just a matter of seconds. To know how to recover data from SD card visit here: www.undoformat.com/sd-card.html
However it does not matter how your data has been lost from your CF card it can be un-formatted with the help of this utility. This tool has capability to recover data from FAT16, FAT32, NTFS, NTFS5 and ExFAT partitions / drive with ease. It has got a very powerful algorithm by aid which it scans and then it will recover data from memory card without formatting just within few easy steps. With the help of this tool you can easily recover various types of audio files like MP3, WAV, MIDI and AMR and video files including AVI, MP4, MOV etc. Image file formats including JPEG, JPG, TIFF, TIF PSD and GIF can also be recovered with this tool in an effective manner. This software works perfectly fine with Windows and you can also use this tool for file recovery from formatted disk on Mac. After successful recovery process you can preview recovered data prior to restoring them.
Undo format application is regarded to be the most popular app to recover data from formatted or reformatted hard drive just within a matter of minute. To know more about this utility, go at: https://www.undoformat.com/retrieve-files-from-a-drive-needed-to-be-reformatted.html
Steps to Recover Data from Formatted CF Card
Step-1: Download and install software and launch it. Choose "Recover Drives" option from the main screen. Then select "Formatted / Reformatted Recovery" option from the next window.
Figure 1: Main Screen
Step-2: Choose your CF card from this screen.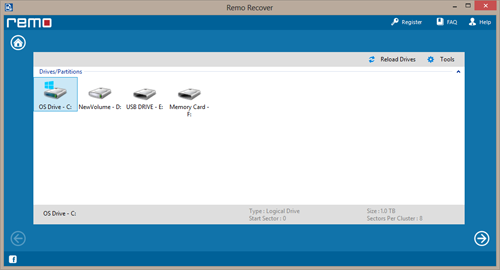 Figure 2: Select CF Card
Step-3: Preview the recovered data after the completion of scanning process. Save these data later using "Save" option.
Figure 3: Preview/ Save Recovered Files