How to Recover Data from Formatted PC?
Formatting of PC is done with the aim of deleting all data residing on its hard drive so that new file system can be allocated to that drive. There is a general misconception that when you format your PC data will be permanently lost but this is not true. Formatting only removes the references of data from index area of hard drive and makes it available for storing new information on it. Files still exists there on PC's hard dive. it can be recovered with the help of an excellent recovery tool which is meant to deal situation like this. Undo Format is one of the most widely used and popular tool, which can get back data lost from hard drive after formatting of your PC. So if you have got stuck in such type of situation then this software that can help you best.
There are many possible scenario which leads to data loss from your PC. Some of those which are most frequently occurring are as mentioned below:
Accidental Formatting: This is commonly taking place reason which leads to data loss from PC. Suppose you want to format a partition of hard drive which is contains junk data. The moment you select logical, by mistake you end up with selection in wrong drive then all information of that particular drive is lost in just a fraction of seconds. The moment you realize this mistakes you will be very upset from this incident but fortunately there exist a popular tool which will help you to recover data from formatted PC in a proficient way. To know about how to recover data from formatted PC's hard disk visit here: www.undoformat.com/accidentally-formatted-drive-recovery.html
Corruption of hard drive: This is another reason where your PC needs to be format. Corruption of hard drive generally cause the inaccessibility problem, because of this you will not be able to access the data stored on hard drive. In order to resolve this issue you are required to format your concerned partition. Formatting results in loss of data stored on that drive and creates a great trouble for you in case no backup was maintained of formatted partitions.But, with the help of Undo Format tool you can easily un-format data from various types of partitions including NTFS, NTFS5 and many more. To know about NTFS partition formatting data recovery visit: https://www.undoformat.com/ntfs-partition.html
Virus or malware attack: Virus or malware is also a possible reason which can makes chances in file system of your PC's hard drive. Once the virus attacks has been occurred you will not be able to access your hard drive data. Now to eradicate the effect of virus or mal ware you are left with no other option than formatting of your virus infected partitions of your PC.
Whatever be the reason behind the formatting of hard drive of your PC or laptop you can recover data from formatted laptop or desktop with the help of Undo Format tool in just a few clicks of mouse. This tool scans whole drive in a very less span of time and recovers data from it. It has got ability to recover data from formatted, reformatted, inaccessible and deleted partition very easily in just a matter of seconds. You can recover different types of partitions including RAID5, RAID1, and RAID0 effectively. You can preview the recovered data once the recovery process is over successfully. This tool is not only capable to recover data from partitions but also cab retrieve data from USB drive and various other external popular storage devices easily.
Steps to Recover Data from Formatted PC
Step-1: Choose "Recover Drives" option from the main screen. Then select "Formatted / Reformatted Recovery" option from the next window.
Figure 1: Main Screen
Step-2: Choose your external hard disk from this screen.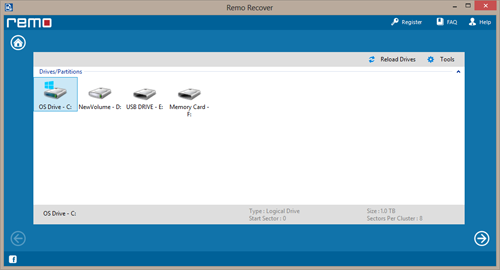 Figure 2: Select Hard Drive
Step-3: Preview the recovered data after the completion of scanning process. Save these data later using "Save" option.
Figure 3: Preview/ Save Recovered Files