Restore Files from Formatted SD Card
When you think about SD Cards, what comes first in your mind? Camera, Photos, Recorded videos and many other that you can store.
And when you think about Format, suddenly blank! SD Card wiped by a Format command.
Format command is not that we use every day. Once a while, still it is enough to give pain that last long.
Professionals suggest to format SD card every time you finished with it. It keeps your Card healthy and ensure for long life cycle.
But there is a flip side too, If you have not taken proper care then it is going to erase entire the data even you don`t mean to. Let`s see why people generally use this Format command:
Other than wiping out the data, Format command also initialize your SD Card to brand new state. It removes any errors that sneak in due to bad handling of the memory card or Camera. That`s why SD Cards are formatted to make it new like after rigorous use.
Sometimes people find it too lazy, to delete files one by one. So they use Format to erase the entire memory card. But only people who care enough take hid to check for files that matters to them. Rightly said?
Corruption is another issue that might compel you to Format memory card. Corruption can be severe also which will not allow to access folders of SD card. Make sure to restore files from SD card before formatting.
How to Recover video Files from Formatted SD Card
As I said Format will remove the data you have. It could be fabulous shots you have taken from your DSLR, Video files that you captured on friend`s marriage ceremony or could be the documents that you prepared for presentation. Whatever it is Recovery software can recover video files from formatted SD card.
See also: How to Recover Files from Formatted SDHC Card
Undo Format
Undo Format is the software that you need in such moments. Not only video files you can recover any type of media files including images, sound clips and many more. This is not the end it can also retrieve deleted videos, folders emptied from recycle bin/ trash. The software is compatible for Windows and Mac OS.
This video recovery tool supports almost all type of audio and video file format- MP3, AMR, MP4, WAV, MIDI, M4B, M4A, AIFF and AVI, MP4, MPEG, MOV, 3G2, 3GP. With the help of this tool, you can also recover data from corrupted SD card without formatting it very easily. To know more, check this link: http://www.undoformat.com/how-to-recover-data-from-corrupted-sd-card-without-formatting.html
Now you might be interested in knowing more about the software!
Undo format tool`s algorithm targets recovery based on two methods:
For Formatted SD card recovery
OS usually works don`t erase entire content of your files for speedy response time and optimum performance. When you press format command, your system removes all the information about directories. Undo Format scan sector by sector hunts down those formatted folders. After the process is complete, you can see what all the files are recoverable.
Or you can select specific file type. Suppose you want only MP4, then you can make Software to search for only MP4s by selecting the particular file type.
For Deleted Files
When you delete files, the particular file will be marked with deleted tag. Undo Format Tool reads file allocation table for such type of file. And at the end you will b able to get back deleted files from SD card.
If you are looking for recovering files from formatted hard drive, continue reading on the linked page.
To recover formatted memory card read the steps below. We recommend saving the formatted files in another drive.
Steps to recover files from formatted SD card:
Step-1: To restore files from formatted SDHC card, first you need to download the software, install it on your computer and launch it. After that, select "Recover Drives" option as shown in Figure 1.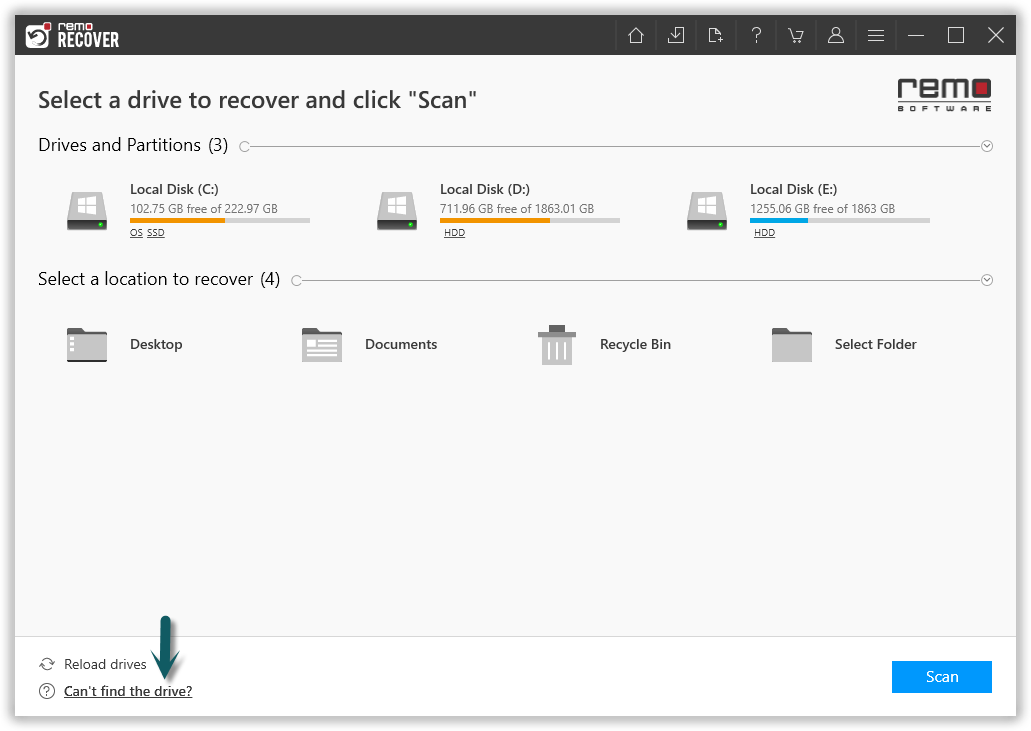 Figure 1: Main Screen
Step-2: Now, click on "Formatted / Reformatted Recovery" to restore files from your formatted SDHC card as shown in Figure 2.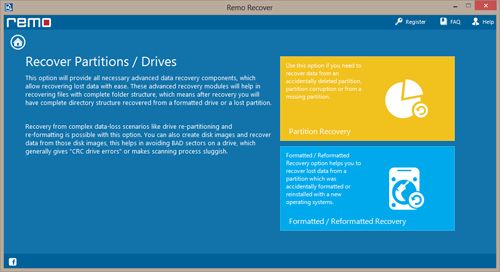 Figure 2: Choose Recovery Option
Step-3: In the next step you need to select your SDHC card and tap on Next button start performing formatted SDHC card file recovery process as shown below in Figure 3.
Figure 2: Select SDHC Card
Step-3: Once formatted SDHC card file recovery process is done, preview your recovered data effectively and save files in your computer as shown in Figure 4.
Figure 4: Save Recovered Files