How to Retrieve Files from Formatted SDHC Card?
People those are having portable devices such mobile phones, hand held computers, digital camera, etc often want to store their video files, audio files, text messages and documents in a way that they can carry data wherever they go. One of such portable storage devices is SDHC card. This SDHC memory card uses flash memory to store files in digital format. Most of the people enjoy the convenience that the SDHC cards bring to them in saving and sharing data. However, they lose files due to formatting of the card intentionally or accidentally.
Have you lost your important files due formatting of your SDHC card? Don't be alarmed. Here is the solution for getting back your lost files from formatted SDHC card. There are many third party applications available for recovering files from formatted SDHC card in the market. One of the most recommended software by experts and popularly growing in industries is Undo format software. Undo format software will safely recover files from formatted SDHC card within few simple steps. Adding to SDHC card, you can also recover files from formatted Micro SD card, CF card, SDXC, xD, etc. easily at your fingertips.
Some scenarios of loosing files from formatted SDHC card
Users lose files from SDHC card by formatting either by mistake or due to SDHC card error.
Accidental Formatting: In some cases by right clicking on your SDHC card, unknowingly pressing on "format" option either on gadget or your computer may result in formatting of your SDHC card. Quick formatting of SDHC card connected to the computer also causes formatting of card. However, you can recover files from formatted SDHC card using our undo format software.
Intentional Formatting: When your SDHC card gets corrupted, obviously you will go for formatting it so as to access the stored data. But, you may forget to backup important files before formatting. Such silly human error causes loss of important files. In such situation, you can restore files from formatted SDHC card without any loss by using our recovery app.
Formatting Error: When you connect your SDHC card to computer, you may encounter error saying "Card is not formatted. Do you want to format it?". Clicking on "Yes" option would cause formatting of your SDHC card thereby leading to huge loss of data. After such instance, if you want to carry out formatted SDHC card file recovery, then give a try for Undo format utility and restore back all your lost files.
Virus Attack: Infection of virus to computer's local storage medium while your SDHC card is in use leads to inaccessibility of the files leaving no option other than formatting the card. But, you can restore files from formatted SDHC card with the help of Undo format software easily.
Apart from these scenarios, removal of card abruptly from the device or using SDHC card on various devices causes data loss. However, you can recover files from formatted SDHC card using undo format software.
Why undo format software?
The software scans the complete SDHC card for searching deleted or lost files so as to recover lost files effectively
This recovery tool recovers all types of files like video files, photos, RAW image files, audio files, etc. securely
Application efficiently retrieves deleted or lost files and folders from hard disks, memory cards USB devices, etc.
By the help of this utility you can also recover formatted partitions on Windows XP, Windows 7, Windows 8 and all other latest versions of Windows Operating Systems.
Demo version is provided to check efficiency of the software before purchasing
24*7 technical support is provided and also this software assists non technical users
Steps to recover files from formatted SDHC card:
Step-1: Download and install the free version of Undo Format Tool on your system. Launch the software and select Recover Partitions option from the Main screen. Then, you will see a list of available Physical and Logical drives in the system. Choose the formatted drive from where files has to be recovered and click scan button
Step-2: Now the software scans the formatted drive to locate the files.
Step-3: Upon the completion of scanning process, a list of recovered files are displayed. The software allows you to view the recovered files in Data View, and File Type View.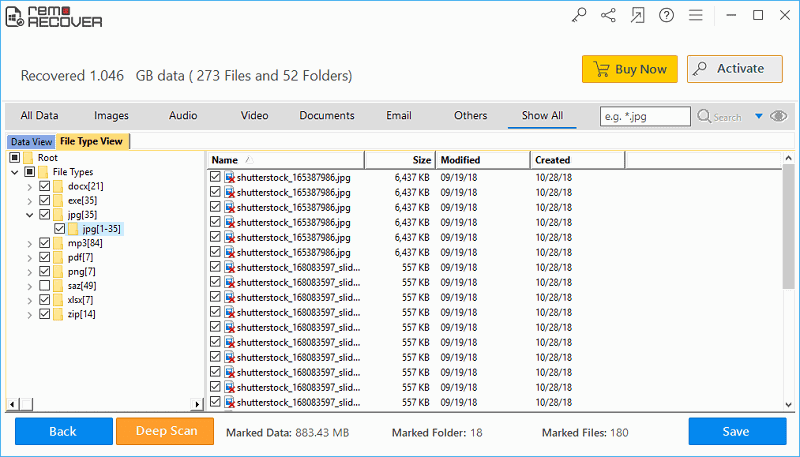 Step-4: Then, before saving the recovered files, you can preview each of the recovered file. Just right-click on the respective file, and hit Preview option to preview a file.
Step-5: At last, if you are satisfied with the recovery results of the tool, activate the complete version of the tool, and save the recovered files at the location of your choice.