How to Recover Data from Formatted WD Hard Drive?
An external hard disk is more convenient than a system drive because you can take it anywhere you like. You can store enormous amount of important data on your external drive and also use it to transfer files from one system to another very easily. However, if you are using a popular external hard disk like Western Digital, you may still run into severe data loss situation on your WD external hard drive in different instances. There are plenty of occasions while a user formats his / her external hard drive without meaning to do so. Once the WD hard drive has been formatted, most of people believe that all files are lost forever and it is impossible to recover formatted WD hard drive. But, it is not completely true because formatted WD hard drive recovery is possible with the help of an efficient drive recovery application.
Undo Format is a well-known application to restore formatted Western Digital hard drive entire files & folders within a fraction of minutes. Data recovery from formatted drive is possible because no files are removed from the disk, they are just made invisible. When you format your WD hard drive, all entries from the file system are removed, so operation system will lose accessibility to the files. As files still exist in their respective location, you can recover formatted WD hard drive files using this prominent utility. But before recovery do not reformat the drive nor store any information on it. Data recovery from formatted drive is possible using this Undo Format tool when they are not replaced by new data.
Undo Format software will be effective on formatted WD hard drive recovery in the below circumstances:
You can format your WD external disk attempting to change its file system. Many times, when you are going to access it in different system, you may need to format it according to the system. Whenever, you are changing the file system, you are indirectly formatting the disk. If you do not have proper backup, you will lose all information from the drive.
You may also need to format your external disk if it is infected by virus and it creates different types of unknown files making the disk slow. If you cannot remove those external threats after anti-virus scanning, formatting is the only option to get rid of this problem. You can use this Undo Format tool to recover formatted WD hard drive in that case.
Apart from these reasons, you can lose files after formatting the WD drive accidentally or getting a format error. No need to panic, this application is specially designed for formatted WD hard drive recovery in every situation. Applicstion has the capability to perform data recovery from Toshiba Satellite, HP and other PC's in which the hard drive is formatted. This tool can restore all types of files from different types of external disk as well as memory card, pen drive, multimedia cards, etc. Moreover, you can use this application on both Windows and Mac operating system to recover formatted WD hard drive. This tool is very easy to use and will allow you to preview files after complete recovery of data on different versions of Windows and Mac operating system.
Steps to Recover Data from Formatted WD Hard Drive:
Step-1: Download and install the free version of Undo Format Tool on your system. Connect the WD hard drive to the system. Launch the software and select Recover Partitions option from the Main screen. Then, you will see a list of available Physical and Logical drives in the system. Choose the formatted WD drive from where files has to be recovered and click scan button
Step-2: Now the software scans the formatted drive to locate the files.
Step-3: Upon the completion of scanning process, a list of recovered files are displayed. The software allows you to view the recovered files in Data View, and File Type View.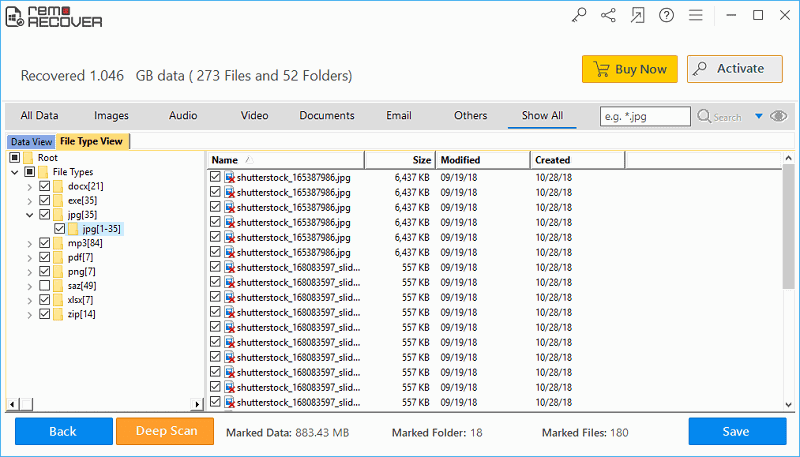 Step-4: Then, before saving the recovered files, you can preview each of the recovered file. Just right-click on the respective file, and hit Preview option to preview a file.
Step-5: At last, if you are satisfied with the recovery results of the tool, activate the complete version of the tool, and save the recovered files at the location of your choice.