Data Recovery from Toshiba Satellite
A virus attack, an accidental reformat or even a physical damage to your laptop or hard drive may force you to format the drive which results in losing highly valuable information stored on your Toshiba satellite product. No need to worry! The Undo format software will help you getting back your lost files. If your lost data could be recovered successfully, it will be delivered to you on a predetermined hard drive location.
If you want to perform Toshiba satellite data recovery from a broken hard drive, the first thing you and I and all of the users know is that the hard drive needs to be repaired so that it can work. After this you can start to consider finding ways to recover files from hard disk drive.
Sometimes repairing a hard drive needs actions like formatting the drive. A formatted hard drive becomes a brand new one because all the data that were stored on the drive have gone due to the repair process. Once your laptop is repaired, you need to pay attention that you don't put anything new into your drive. Why? Because this will fad your chances ofToshiba satellite data recovery. Actually, the data is not gone even you format your drive. When we emptied Trash/Bin (secure emptying is not included) or formatted the drive, what we deleted is actually not the file. You just lose the access of the file from the system. The space occupied by deleted files is marked as "available to reuse", so the deleted files remain logically intact on the drive until they are overwritten by other files. So the truth is: the files will be only deleted when you put any new files in to the drive to overwrite the original ones.
Why to use Undo Format Software?
Accidental loss -If you have formatted the drive or deleted some files, this action at times could be purely unintentional or lack of experience while dealing with computer. Take an instance for example any user might format disk E instead of performing format operation on disk D. This might sound silly but unfortunately most of the users ends up doing these kinds of human errors and eventually loose all important stuffs such as software, data and important files and media folders.
External drive format performing Quick scan on an external drive such as memory card, flash drive or external hard disk sometimes may put you in catastrophic crisis. As quick scan can`t be stopped in between, if you initiated once it will stop only after wiping out all your information.
Reformatting partitions- Reformatting is also a kind of formatting operation which is performed to free up some space by wiping the content of the disk mostly for optimizing system performance. Reformatting often follows with reinstalling OS after formatting. Reformatting process generally includes converting OS from one to another. When HDD gets formatted due to this issue you can perform undo format hard disk drive operation by running this wizard on your local machine.
Virus attack- The most deadly but frequent reason behind formatting a drive unwontedly is a virus attack on PC. Sometimes computer is overfilled with malwares that it displays warning to format our HDD. In severe conditions you will left with no option other than formatting the drive.
Steps to Recover Data from Toshiba Satellite:
Step-1: You will have to download & install this software on your Toshiba Satellite. After launching it, select "Recover Drives" option from main screen.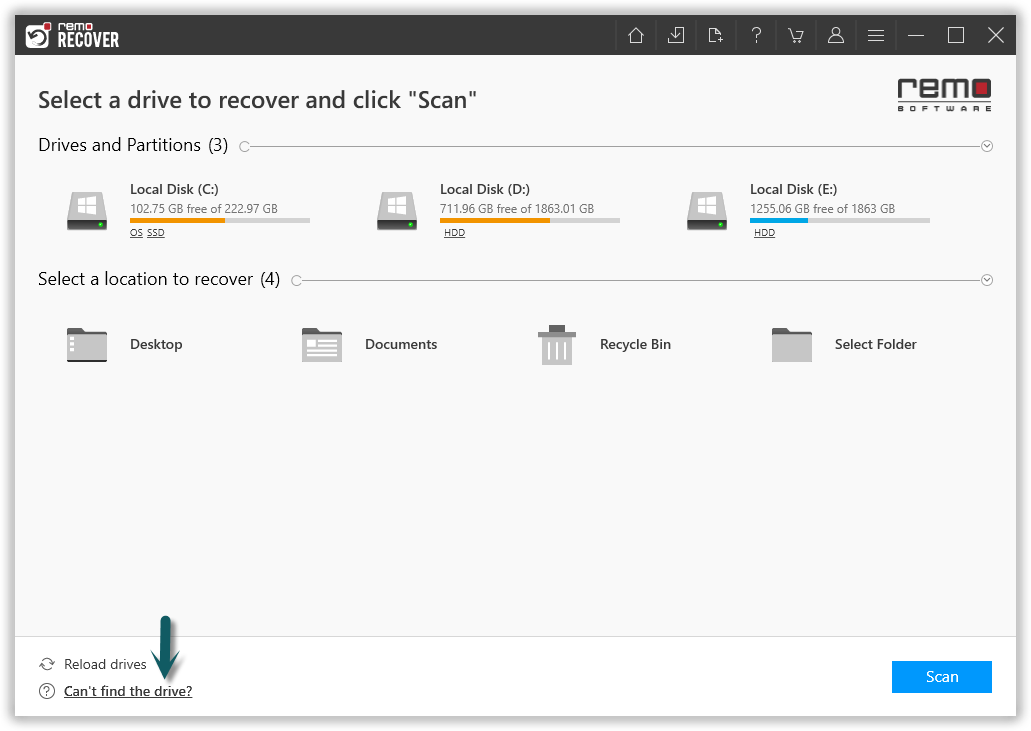 Step-2: In this step, you have to click on "Formatted / Reformatted Recovery" option to proceed with Toshiba Satellite Data recovery.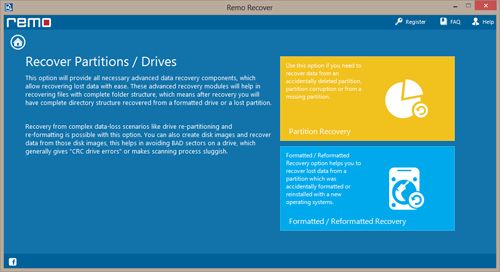 Step-3: Now, choose the formatted drive from the list and click on "Next" to restore data from Toshiba Satellite PC.
Step-4: After completion of scanning, all recovered data will be shown in a list and you can preview them before save.