Windows 10 Formatted Hard Drive Recovery
Undoformat Software can revert back the format process and get back data from formatted hard drive. Lost data while switching from Windows 8 to Windows 10, not to worry! Undo format can restore formatted hard drive data on windows 10.
Read on: Recover Data from Hard Drive after Reinstalling Windows OS.
Glimpse on Format
Format command in Windows is used to erase or remove drive data so that it can be used again. If you tried to format a drive then it will wipe out all your stored data in that drive plus it will initialize the drive. Initializing drive means preparing it as it was when you bought from manufacturer.
We generally format a drive when we sense that our computer is getting slow or performance is down. So to make some free space, instead of deleting each individual folder one by one, you opt to format the drive.
Or to install a new file system for example FAT, NTFS, you will need to format the drive. Today all Windows computer comes built in NTFS file system. However for less storage space like portable drives FAT 32 could be beneficial.
Reinstalling OS will also format the drive and erase all the data. Whatever OS you are installing Windows 10 or 8, your drive needed to be formatted for reinstalling Windows.
These are some genuine situations where your drive requires to be formatted. Apart from these there are also situations when people have made mistakes while formatting the drive such as choosing the wrong drive or formatting the drive without backup.
What could be the end result of Format option?
You may be formatting your drive to improve performance or reinstalling OS but it will always wipe out your valuable data. Of course Back up can save your valuable data, but for whatever reasons people don`t prepare scheduled backup. So it is recommended to take Backup in an external hard drive before going for format.
Is this possible to recover data even after formatting the drive!
Formatting the drive will remove the file information which is needed to locate the folders, files or particular data type. You cannot view those files normally but it retains there as long as you don`t read or write anything. But as the file information is erased, OS cannot locate those files.
Good news is UndoFormat can retrieve formatted data from Windows.
Undo Format- Restore formatted hard drive
UndoFormat Software is specially built to recover files after format. It is OS reinstallation or Formatting drive with new file system, this tool has recovery algorithm. Tool provides user friendly interface same as Windows interface for your convenience.
To reinstall OS you will generally format C drive. UndoFormat can recover data from formatted C drive.
We are aware of that Windows 10 is latest OS and some of you may make mistake while installing the OS. Our software is designed to support Windows 10 also.
Operating System - Microsoft Windows 10, Windows 8, Windows 7, Windows Vista, Windows XP, Windows 2003 and Windows 2008
RAM - 512 MB (Recommended 1 GB RAM and more)
Free disk space - 50 MB (for installation)
Supports - 32-bit, 64-bit PC
Learn How to Restore Formatted Hard Drive Data On Windows 10:
Step-1: Download the software and install on your computer. After launching the software, from the home page of this recovery tool select Recover Partitions / Drives and then select Formatted / Reformatted Recovery.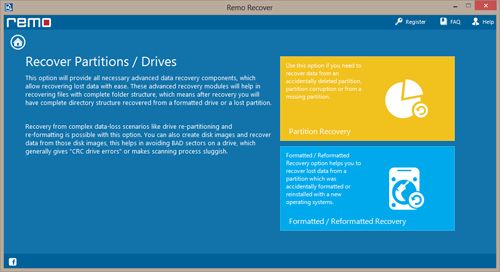 Step-2: In the next screen user needs to select the Windows 10 HDD in order to restore lost data.
Step-3: You will get the display of all the drives on the operating system, select the appropriate drive and scan. After scanning the whole drive, it displays the identified files. Preview the files and restore.